Our
Products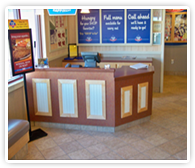 FINISHING
CBM's finishing department's goal is to ensure high quality finishes on all of our millwork and cabinetry products. Skilled finishers ensure consistency, quality, and longevity of our stains, lacquers and varnishes.  All products used by CBM in the finishing department meet environmental standards.
MILLWORK
CBM manufactures complete millwork products, including custom cabinetry and counters, walls, ceiling designs, tables, chairs, and booths.  CBM manufactures products using client-provided drawings or blueprints.
Installation
Installation begins when the finished product is moved onto our fleet of delivery vehicles or contracted carriers. Our team of over 20 knowledgeable installers provides installation anytime.